Introduction to DIY
Maintaining the NSX can be as fun and rewarding as it is to drive. With a few basic tools, a few specialized tools and the Service Manual, most of the NSX's regularly scheduled maintenance can be preformed on our own. This site is intended to show NSX owners some routine procedures required to keep our machines running smoothly. Special attention will be given to areas where the NSX needs to be well maintained for track use.
For the SAFETY of YOURSELF, OTHERS and YOUR NSX, please consult other sources of information including the NSX mailing lists, the NSX FAQ, your local NSXCA members and an NSX certified mechanic before attempting any of these procedures on your own. Just because they work for the authors of these pages and their cars is no guarantee they will work for you or your car.
It's important to approach DIY with cautious vigor. We need the right safety equipment, tools and parts before we can start the project. Using proper tools is important; the difference between the right tool and the sort-of-right tool can be substantial—Invest in the proper high-quality tools. DIYing without the Service Manual is like driving your car without the steering wheel. Buy one before planning a procedure.
Plan out a worst-case scenario before attempting a project. Example: Flatbed to the Acura dealership - $100, parts & labor - $200, egg on face – free, total worst-case - $300.
Good luck and enjoy!!!
DanO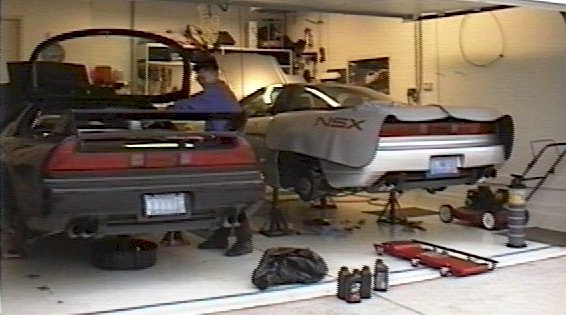 Above: in my garage - Andie Lin is preparing his black '95 for our monthly CGI track event. My Silver '92 has recovered from a gas tank repair and is ready to go.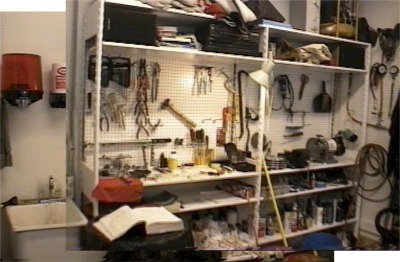 Above: Having the proper tools and supplies makes a big difference.